How It Works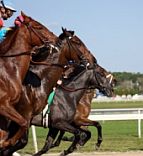 A New Concept In Racehorse Ownership
We put together small groups of individuals to share in the thrill of owning a top quality racehorse for a fraction of the cost of a similar experience elsewhere. Why not join us in this exciting new venture and experience the unique thrill of racehorse ownership?
About Four Legs Racing

Four Legs Racing is operated under the personal supervision of Steve Ajax. Steve has worked at a senior level for many leading organisations inside and outside the world of sport, including The Jockey Club, Ladbrokes, William Hill, The Championships Wimbledon, BBC, RTE, The Press Association and Cable and Wireless. He has over 40 years experience of the Horse Racing industry and is ideally placed to manage a team of highly motivated professionals as they strive to give you the best possible partnership experience.


The Experience

As a member of a Four Legs Racing partnership you can expect a very high level of personal service. Each partner is treated equally and will be involved in the important decisions affecting their horse. Four Legs will act as your personal racing manager, keeping you regularly informed as to the progress of your bloodstock and running plans. We will keep in touch via email and on the telephone, sending photographs and filmed updates, showing your horse in training, as well as regular updates from your trainer. Four Legs aim is to manage your bloodstock as professionally as possible to maximise the horse's potential. We want to ensure that every partner enjoys involvement in the racehorse partnership to the maximum. Throughout the horses career we will be monitoring its progress to ensure the horse and the partnership reaches its maximum potential.