South Africa Racing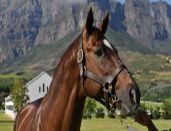 The South African Racehorse Politically and geographically isolated, South African thoroughbred breeders were unable to benefit from the changes that took place in racing during the 60's, 70's and 80's. In recent years, with increased access to internationally successful bloodlines and breeding techniques, South African bred runners have made an impact.
It is clear, even with limited resources, South African breeders can produce bloodstock with the ability to compete on the world stage. The Dubai World Cup meeting has illustrated the capability of South African horses to compete at the top level. In the last five years South Africa has sent an average of 5 runners per year to the festival and come away with an average of $1 million prize money per visit.


International Horse Racing

In recent times the world of Horse Racing has shrunk considerably. Festivals such as the Breeders Cup, Melbourne Spring Carnival and the Dubai World Cup, attract racehorses from all over the world. The thoroughbred racehorse is now a global commodity, with a value that reflects its worth on the world market. South African bred horses consistently appear in the upper reaches of the World Thoroughbred Rankings. The rankings for the period from January to August 2014 sees South African Champion, Variety Club ranked number three.
State Of The Market

South African thoroughbreds currently trade at less than 20% of the value of other major bloodstock producers such as Australasia, Europe and the USA. South African breeders continue to invest in the future of South African bloodstock. Recent imports include proven stallions like Oratorio, a sire of group one winners in both the Northern and Southern hemisphere. Trippi, a champion sire in Florida. Philanthropist, who, from only two crops to race, has sired the winners of over $3million in North America. The choice of stallions available to breeders in South Africa is at an all time high and improving all the time.

International Success &nbsp What They Say